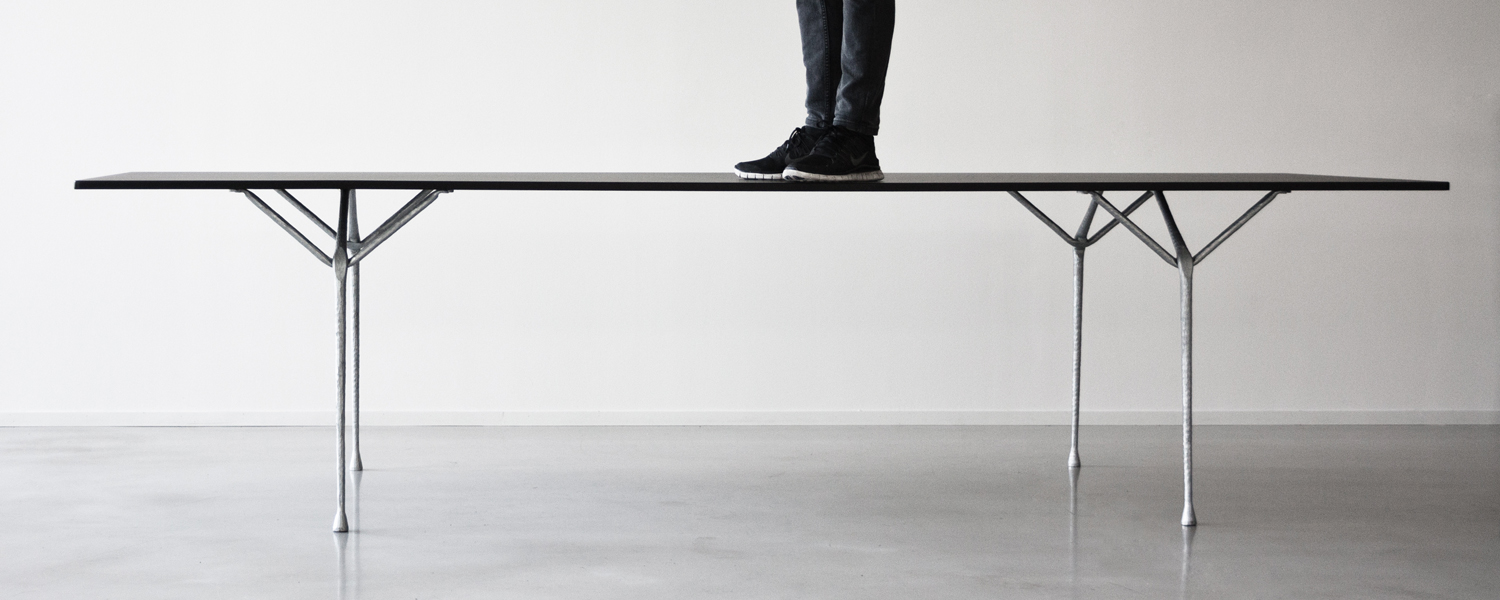 Kawara
2022-09-15 15:38:30
Kawara Armchair's charm is the use of molded plywood creating a three-dimensionally curved backrest and armrest. Plywood, like other natural materials, can shrink and warp. The backrest, armrest, and seat of this chair are made from three separate molds and the ability of experienced craftsmen to foresee and manage each part's movement has helped create the Kawara Armchair without the need for numerous reinforcement parts.
Koyori
W 548 x D 531 x H 822
Oak veneer natural, black, grey, green.
Upholstered seat leather or textile.
Musubi
2022-09-15 15:36:14
The Musubi Chair design emphasizes the beautifully yet efficiently sculptured parts of wood. The backrest and armrest have achieved a sculptural three-dimensional shape by carving out solid wood using both wood-bending and 5-axis NC cutting techniques. The chair features a characteristic dented shape between the backrest and armrest, and the armrest and the legs. Appearing as if they are tied together, each part is joined with high degree of precision, accuracy and technique.
Koyori
W 595 x D 514 x H 749
Matte black beech or natural oak.
shaku
2022-09-15 15:34:49
The charming feature of Shaku Chair is as the seat base is holding the backrest. It requires high processing and assembling accuracy allowing for the clearance gap to be precise as of 0.5mm underneath the seat. Created by this expressive modelling experience, its relatively high backrest makes this chair comfortable to sit in, even if the size is relatively small.
Koyori
W 385 x D 506 x H 823
Matte black beech.
Passerelle
2022-09-15 15:32:14
The Passerelle Table – inspired by the uncluttered aesthetics of classic Shaker furniture - is an updated interpretation sharing the same simplicity and quality in a more contemporary context.
With a well-balanced, flat-packed construction, the tabletop features solid wooden edges and top surface in veneer, laminate or linoleum, with the core made of Lisocore® – an advanced, high-quality material that offers great strength yet is extremely light and easy to move around.
The under construction is equally robust and functional, with a solid wooden frame and aluminium and steel crossbar that strengthens and stabilises the table.
The Passerelle Table's variety of material, colour and size options amplify its multifunctional quality, making it equally suitable for using as a kitchen, dining table, or meeting table in both private and public spaces.
HAY
Desk
140 x 65 x h 74 cm
Table
140 x 75 x h 74 cm
160 x 85 x h 74 cm
200 x 90 x h 74 cm
260 x 95 x h 74 cm
300 x 95 x h 74 cm
High Table
200 x 80 x h 95 cm
200 x 80 x h 105 cm
250 x 80 x h 95 cm
250 x 80 x h 105 cm
Cilos Throws
2022-07-13 16:23:18
Cilos Throws
Pier
2022-07-13 16:21:44
Pier
Sosei
2022-07-13 16:17:55
Sosei is a series of vase-like objects whose parts are made using the special method of clay extrusion typical for the tile production in Tajimi. Geometrical elements are attached to a cylindrical body to create compositions of geometric forms and colors and glazes. The harmonising, deep colours of the typically Japanese glazes stand are a tribute to the beauty of Japanese ceramics.
Lincoln Pavilion
2022-07-13 16:14:32
The project of the Lincoln Pavilion came about through a series of chance meetings and resulting friendships.
A few years ago, French artist Pascal Rivet created Lincoln, a full-size wooden sculpture of a Lincoln Continental. Nicolas Hérisson, director of the Piacé le Radieux arts centre, proposed exhibiting the piece in a roadside field in the village. Together, Rivet and Hérisson asked Ronan and Erwan Bouroullec to design a shelter for this new installation in Piacé.
Piacé is a small village in rural Sarthe in central-western France, and was the subject of an architectural project by Le Corbusier and Norbert Bézard in the 1930s for a model farm, 'la ferme radieuse', which was never realised. Piacé le Radieux is an arts centre dedicated to architecture, design and contemporary art. Lincoln takes its place as a permanent public installation in Piacé.
Ronan reminisces: "I met Pascal Rivet when I was a teenager. He was a student at Quimper art school, where I took a drawing class every Wednesday in the studio where Pascal worked. I was blown over by what he was doing; in those days I had no idea what sculpture was. A few years ago, I gave a lecture in Quimper in which I mentioned how much Pascal Rivet's work had marked me. By pure chance, Pascal was in the audience. We became friends, and three years ago he asked me to come up with a solution for this full-size sculpture of a Lincoln."
The Lincoln Pavilion is mostly made of ceramics and glass. The frame and roof are in steel and corrugated iron, and are painted the same red as the Rombini terracotta tiles that cover the pavilion's internal and external walls.
The floor is tiled in Pico ceramic squares.
There is a ladder at the front of the pavilion to enable visitors to see inside the sculpture.
During the day, the surrounding landscape is reflected in the large display window. At dusk it lights up and, like a mirage, the pavilion emanates a very particular, cinematic quality.
The pavilion was built by local craftsmen and with the support of the ceramic company Mutina.

Thank you for your interest in working with us.
Currently there is no vacancy for any employment or internship.




Ronan Bouroullec
18
English Edition
Softcover: 24 pages
Publisher: Nieves 2019
ISBN: 978-3-907179-03-1

Erwan Bouroullec
101
English Edition
Softcover: 16 pages
Publisher: Nieves 2019
ISBN: 978-3-907179-04-8

Ronan Bouroullec
Drawing
English Edition
Softcover: 16 pages
Publisher: Nieves 2018
ISBN: 978-3-905999-92-1

Ronan & Erwan Bouroullec
Drawing
English Edition
Softcover: 864 pages
Publisher: JRP/Ringier 2013
ISBN: 978-3-03764-319-8

Ronan & Erwan Bouroullec
Bivouac
French and English Edition
Hardcover: 110 pages
Publisher: Centre Pompidou-Metz 2012
ISBN: 978-2-35983-016-3

Ronan & Erwan Bouroullec
Works
English Edition
Hardcover: 334 pages
Publisher: Phaidon Press 2012
ISBN: 978-0-714862477

Ronan & Erwan Bouroullec
Cercles - iPad App
French and English
App website
Apple Appstore

Ronan & Erwan Bouroullec
Lianes
English
Hardcover: 64 pages
Publisher: JRP/Ringier 2010
ISBN: 978-3-03764-150-7

Ronan & Erwan Bouroullec
Objets Dessins Maquettes
French and English Edition
Softcover: 40 pages
Coedition Archibooks, villa Noailles, Grand-Hornu Images & l'elac; (July 2008)
ISBN: 978-2-35733-019-1

Ronan & Erwan Bouroullec
French and English Edition
Hardcover: 208 pages
Publisher: Phaidon Press; (November 1, 2003)
ISBN: 0714843180 (english version)
ISBN: 0714893625 (french version)

Catalogue de raison (Laurent Le Bon)
French / English
Hardcover: 80 pages
Publisher: Images modernes - Editions Kreo (16 novembre 2002)
ISBN: 2913355145


Press Review